POST | Review
Cultist Simulator Review
By JR Smith
You've just sent your best followers off into a spooky hospital, looking for treasures with an eldritch connection. Meanwhile, you have a police detective tenaciously gathering evidence on your cult's activities. And if that wasn't enough to keep you on your toes, you saw something on your last trip into the ethereal dream world of the Mansus that separated you from your wits.
That's the world that Weather Factory's game Cultist Simulator thrusts you into. Players balance out their resources and work towards differing goals by means of a virtual tabletop game. You have different action boxes to slot cards into in order to forward your progression. But there are plenty of pitfalls from the aforementioned madness and judicious inspectors and more that can cut short your path to unholy enlightenment. And if that happens, it's time to start from scratch - equipped only with the knowledge of how to avoid the same horror filled pitfalls.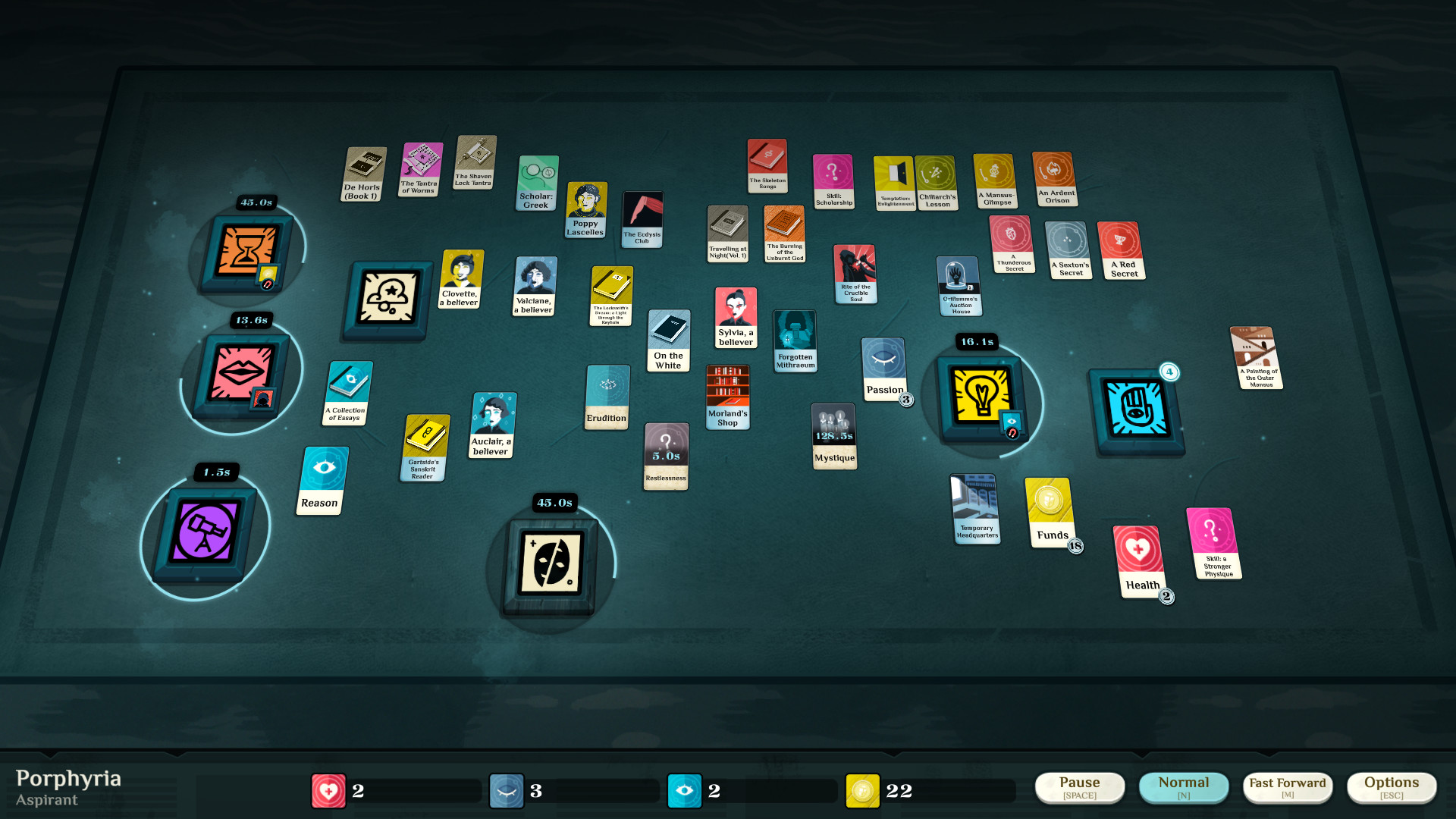 Narratively, players start as one of several roles from a doctor, an inspector, a dock worker who just lost his job, or several others. Other than the inspector, most roles are focused on you learning your way around the world, starting a cult, and diving into the unseen eldritch world. Like any good work inspired by the oeuvre of H.P. Lovecraft, the story is not delivered in an explicit manner. There is always something inherently unknowable about the arcane and for the most part, the narrative snippets Cultist's Simulator provides works in its favor. Though I found that it was the systems driven narrative that pushed me forward, as I did not find enough in the written content to draw me in.
This was not enough to turn me off of the game, though. And in general, I prefer that a game attempt something interesting and come up short rather than make a series of safe choices that come together as an inoffensive, uninteresting manner. And Cultist Simulator definitely fits into the former category. While other games have tackled the horrors of Lovecraft thematically, few have attempted to simulate running an actual cult while avoiding the vigilant eyes of the law and the tension feels just right.
The game keeps the pressure on through its timer system that takes your emotions on a wild rollercoaster. Each action box takes a certain amount of time to complete and some cards only stay on the board for a set period. In one playthrough, I managed to capture an inspector that had been hounding me mercilessly. I was quite surprised when his imprisonment timer ran out and he turned into a corpse, only to have another detective enter the field shortly thereafter and begin her investigation. With just seconds left on the corpse timer, my stomach twisted itself in knots as I waited to see which card the detective would select. I let out a massive sigh of relief when the detective picked up the tentative evidence card rather than bloated corpse with the neon sign shouting "this is a clue!".
I should mention here the two most obvious missed opportunities in the game. By my count, there are nine different cult types to choose from. From what I could see, they did not play significantly different and, given the light touch on the narrative, definitely read the same. The Mansus - the game's name for the eldritch connected world - also hints at a deeper story without ever delivering further detail. I think a rich narrative working in tandem with the already great systems design would have really fleshed out the world and kept me coming back for more even after I mastered parts of the game.
More important than the narrative not matching my personal taste, I found the UI in Cultist Simulator to be temperamental. Weather Factory went with a mostly tutorial free approach in teaching the mechanics of how the different cards interact. This works well until the back third of the game, when the UI offers no substantial clues how to obtain the cards that you need. The UI further undercuts the game's successes by automatically placing cards under other cards in such a manner than you can't find them at a glance. Since there's no discard pile, you can spend several minutes wondering if you lost a card or if it's just hidden under a stack of something else. While this might seem just a nuisance, this can actually end the game for you in a surprising manner. Let me give a brief example:
One of the action boxes contains an "explore" verb. Using this box. you can send your followers treasure hunting with one of your location cards. You won't know how long your followers will take before you send them off and I never found a way to abort the excursion. This is important because you also need the "explore" verb to visit a bar that gives you contentment which in turn fights off dread. And dread - left unmanaged - will end your game because you succumbed to despair. Most importantly, the explore option is the only reliable way to generate contentment cards. In each of my late game deaths, I had sent off my intrepid followers to go explore, only to discover I had some dread cards hiding underneath another pile. I tried to fight it off with contentment cards generated outside of the bar, but I could not reliably do so. And with no way to abort the excursion, I knew I was boned the moment the despair counter appeared. How anticlimactic!
After dying three ways in the same manner, I decided that the game was teaching me to not go on excursions. I strongly suspect that was not the authorial intent as you need treasures from excursions to progress, but that's what it was teaching me nonetheless.
This is where I left off with Cultist Simulator. I had mastered the first two thirds of the game and felt confident in my understanding of the mechanical systems underpinning the game. But several runs left me dead due to the surprise despair death scenario I outlined above. There was not much incentive for me to replay the early portion of the game when I had already seen what it had to offer. And given the narrative's light touch, I'm not even sure I would have found a satisfying payoff for me at the end.
I realize this sounds like I would not recommend the game, but I actually feel quite the opposite. The systemic tension brought on from balancing your activities exploring the occult and ducking the law is quite brilliant. The narrative, while too sparse for my taste, thematically captures the feeling of the unknowable arcane. And I really enjoyed the hands off approach to tutorializing, even if the UI undercuts an otherwise successful instruction toward the endgame. Even though I never reached the game's end, I found myself satisfied with the experience overall. I wish more developers take more experimental approaches like Cultist Simulator and I am very much looking forward to what Weather Factory makes not.
Score: 4 out 5 (Recommended)
Cultist Simulator was developed by Weather Factory. It is available on Steam for $19.99.