POST | Indie Weekly
Indie Weekly (Week 13, 2018)
By Richard Alvarez
Our second Indie Weekly is here, albeit a tad late. Due to our tardiness, we're going to save notable indie coverage for next week but we still have our top 10 indie releases of the week!
Top 10 Notable Indies
Here are our top 10 indies released between Mar 24 and Mar 30, 2018 (sorted alphabetically)!
Flash Point: Fire Rescue
Flash Point started as a Fig.co campaign with the ambitious goal of bringing the award winning board game to life digitally. The physical version of Flash Point: Fire Rescue is a cooperative game where 2-6 players attempt to rescue 7-10 victims from a spreading fire. The game has a sort of dynamic effect on the map because fire will spread with each turn which can cause structural damage and perhaps even block paths. To that end, RetroEpic Software (the developers of the digital version) were passionate about this being a natural fit for a video game translation.
One of the challenges of digitizing a board game is communicating usually complex rules to an audience that may be coming into the game with a shorter attention span for that sort of learning curve. I once said that the first time you sit down to play a new board game with friends, it's like the first pancake you drop on the griddle – it's sacrificial and usually isn't as good as the subsequent attempts. That is potentially a large investment to make for an audience that sees "casual" and "local multiplayer". I wonder how much of this accounts for Steam Reviewers bemoaning difficulty where as the board game seems to be received as a "family" game.
Aside from that, the game is getting great reviews and is by all accounts a faithful translation of the physical version. Furthermore, RetroEpic Software, went further than just a faithful recreation by adding 5 custom maps to the 2 provided in the board game. The original Fig.co campaign also promised to include other expansions such as new mechanics and specialists as DLC but it's unclear to me whether or not that is still planned. Generally speaking, RetroEpic appears committed to supporting Flash Point as they have promised online multiplayer in the future. Steam ($19.99)
Gambol
Gambol is a colorful 2D platformer that appears to have a triple jump, with your jump counter being reset as soon as you touch a wall or even ceiling. I think it's this generous ruleset governing the platforming mechanics that led to a trailer where the avatar is practically flying. This was evocative of the cancelled, but highly anticipated, Frog Sord where you could extend your hang time to ridiculous lengths.
Aesthetically, I got an immediate Toe Jam & Earl vibe – I think it was the ever-present pulsing squiggles that gave it away. This inspiration was confirmed by creator, Mike V. Pickering. He also indicated early interest in doing a bass-heavy soundtrack a la Toe Jam & Earl which I think you can hear in the alpha teaser trailer from last year.
Steam ($9.99)
Jalopy
Jalopy is a procedurally generated adventure where you have to get across the Eastern Bloc in a battered beater gifted to you by your uncle. You'll choose routes based on your available resources, stumbling upon shops and petrol stations along the way. The muted but pleasant low-poly aesthetic seems to have drawn players in ever since the early prototype in 2014. Since then, it has grown by way of consistent updates that provided additional functionality and countries to travel through. It's unfortunate then, that even after all that development time, I saw more than one Steam review that begrudgingly used jalopy as a metaphor to describe the quality of the game. Those user reviews indicate that there are some run-breaking bugs – forcing you to start over at no fault of your own. That said, it still sits at mostly positive reviews and is compelling enough to warrant a try if you can get past those issues.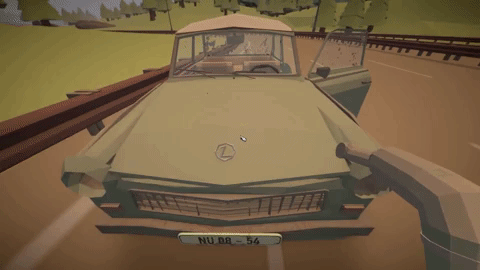 Steam ($14.99)
Long Gone Days
Here is another entry that gained many fans after a demo released a couple years ago. Since then, Chilean developer Camila Gormaz launched a successful indiegogo campaign (Full Disclosure: our co-founder, JR Smith, contributed to this campaign.) Long Gone Days employs a number of interesting mechanics to force the player to consider the impact of war especially across cultural barriers. For example, the need to require interpreters in order to communicate.
This Early Access release has a third of the total planned content, clocking in at about 3 hours and I'm very excited to see how the story progresses as the development team fills in subsequent acts.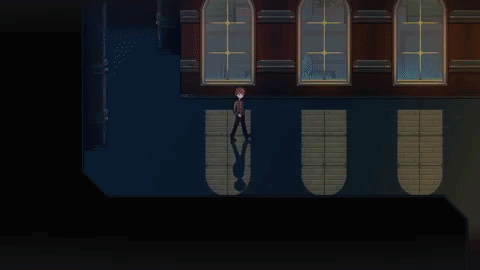 Steam ($14.99)
OF MICE AND SAND -REVISED-
Of Mice and Sand: Revised is a colony management sim by the venerable Arc System Works. While Arc System Works is best known for their all-star 2D fighter catalog – Guilty Gear, BlazBlue, Persona 4 Arena and now Dragon Ball FighterZ – they first established themselves as contract developers, usually working on ports of games like Battletoads. This history, perhaps, explains their habit of continuing to supplement their successful fighter lineup with quirky one-offs like Damascus Gear Operation, Inferno Climber and of course, Of Mice and Sand.
In Of Mice and Sand, you manage a colony of mice traveling across desert lands in a tank-like castle. You must utilize your resources and whatever you scavenge to improve the rodents' quarters and ensure their survival. A common theme across complaints is that this becomes an exercise in micro management but you might feel at home if you enjoy SimCity or Fallout Shelter.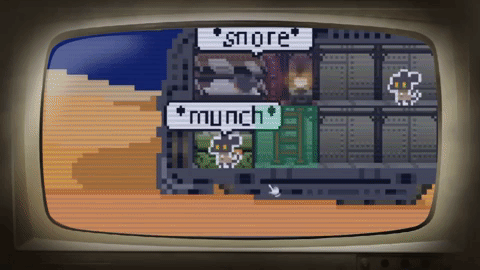 Steam ($9.99)
Squirm
According to creator Alex Carpenter, this game is actually Squim 2 (not a typo), a sequel to a free game released on Gamejolt.
As you can see from the trailer, it employs VVVVVV style pixel art, perhaps with higher resolution but a slightly more limited palette. While we've been trained to see visuals like this and think "hardcore platformer", it turns out this sequel – now titled Squirm – is a rather short but enjoyable action platforming romp.
You play as a shooting jumping dude taking on 150 levels across 7 worlds. The mechanics vary across levels with surprises like jetpacks, wind gusts and slippery physics on icy levels. The biggest draw, however, seems to be the five cleverly designed bosses – like a larger-than-life eyeball that shoots homing squids out of its iris. Pick it up for loose change if you're a fan of action platformers.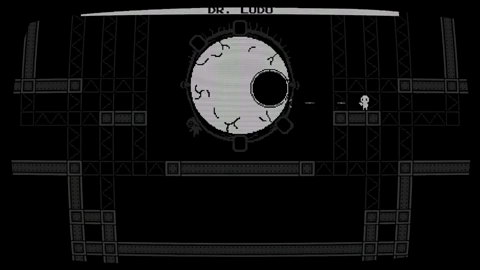 Steam ($1.99)
The Four Colour Theorem
Based on our research, we're fairly confident that the developer of The Four Colour Theorem, Jon Pennant is a robotics and AI engineer. It came as little surprise, then, to learn that Four Colour Theorem is a well established and researched mathematical theorem that states:
Given any separation of a plane into contiguous regions, called a map, the regions can be colored using at most four colors so that no two adjacent regions have the same color
By the looks of it, this makes for a compelling video game mechanic.
Steam ($0.99)
The Land of Glass
The Land of Glass uses a beautiful stained glass rendering technique but doesn't rely entirely on flashy looks. It aims to combine Collectible Card Game and Action RPG mechanics. You build your deck out of hundreds of collectible cards in order to be used in combat to manage three battlefield components: attack grid, defense grid and the playing field itself. The playing field can be altered with lightning storms, for example. The combination of interesting mechanics and gorgeous art style drove our interest and we're interested to hear from others about their experience with this one.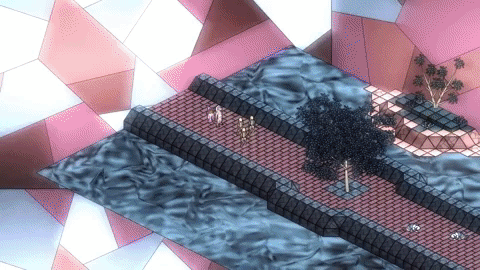 Steam ($14.99)
while True: learn()
At first blush, while True: learn() looks like a tycoon take on a Zachtronics game. However, this is a lot more linear than a Zachtronics game, perhaps because it is intended to be a learning tool, first. Things like newspaper cutouts are presented to give context to the task at hand, though they ocassionally fall short – at least in the early pre-alpha build that I played. For example, it opens with an introduction to the perceptron algorithm with a description of Eliza but doesn't explain how an algorithm intended to learn to sort through binary values can be extended to create a natural language processor.
Gripes aside, I generally like the presentation of while True: learn(). Additionally, I think it would be helpful to the populace at large to understand what machine learning is and how it affects us. In light of that, I hope that developers, Luden.io, can leverage Early Access to create compelling but educational challenges for the player.
Steam ($6.99)
摩尼遊戯TOKOYO
摩尼遊戯TOKOYO apparently means "place of truth" and is the final stage of this vertically scrolling shoot-em-up. TOKOYO was ported over from the Nintendo 3DS – hence the ornately framed dual-screen style. This game has a beautifully funky and colorful style to it. There's a 3DS trailer of TOKOYO where a gold boss with multiple hands, evoking Buddhism, is shooting Kanji at your character: a Buddhist priest. There are apparently some neat screen swapping gimmicks throughout the levels, adding some variety to the typical shmup play. TOKOYO still hasn't been localized for English speaking players, but it appears that this won't impede most people's experience.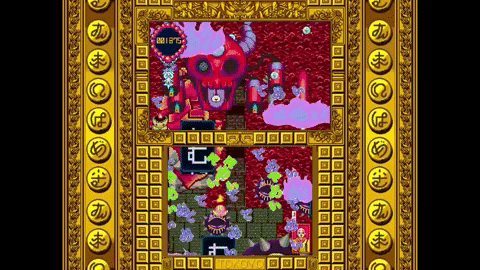 Steam ($9.99)