POST | Indie Weekly
Indie Weekly (Week 21, 2018)
By Richard Alvarez
Here are the top indies you might have missed from last week! Let us know your favorites on Twitter.
9. Whitevale Defender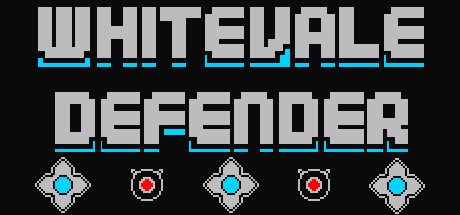 The Groundhog Day of tower defense, Whitevale Defender has you repeating the same scenario on the same map over and over again. You gain currency that you can use to unlock more units, passive abilities and active tools that can be used once a wave begins. Frankly, this setup urged me to rush through sessions so that I coulud unlock more goodies. Nonetheless, I would still strive to do as well as I could given my current loadout and playspeed. The keyboard shortcuts were extremely helpful in this endeavor.
The narrative conceit is that Whitevale is under attack. Unfortunately, the collective combat acumen of its citizens has atrophied thanks to years of peace. You are now the only denizen of the kingdom that can save it. As such, King Theodore has recruited you to protect it from King Balmek. The first wave sees you focusing on one entry point. If you manage to hold back the offense for a few waves, your opponents will double up their vectors of attack. Presumably, you've left the flank undefended. Eventually, they'll be coming from 4 directions criss-crossing paths on their way to your castle. Due to this, efficient unit placement will the foremost concern.
Thanks to the single scenario, slow unlock path and 1-bit look, Whitevale Defender can feel a bit shallow at times. To that end, your mileage may vary but I enjoyed my time with it.
8. Catmaze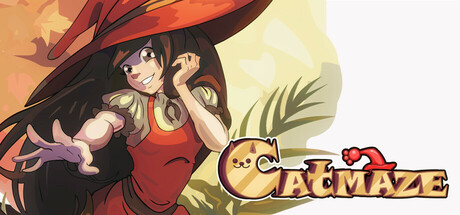 Inspired by Slavic mythology, Catmaze is like a Metroidvania fairy tale. Ethereal music accompanies you on your platforming journey through a forest as you encounter magical creatures and bump up against temporary dead ends. This game is heavy on quests and side quests that fill in the narrative and the context of your protagonist: Alesta. A young sorceress with an appetite for exploration, Alesta is setting out to gather ingredients needed for a broth that will help her ailing mother. This narrative fits the Metroidvania genre well. Wandering to explore every nook and cranny, even when it wasn't related to the task at hand, felt completely in character. Similarly, Catmaze is happy to provide you with an abundance of hidden paths and secret rooms.
Fascinatingly, your surroundings are lively with movement: butterflies are wandering, flowers are blooming, bushes are bouncing and birds are feeding. This constant movement creates an air of optimism even when the game itself gets gloomy. The combat is simple but enjoyable thanks to a variety of enemy attacks. Despite playing well and being adorable, I was nearly compelled to remove Catmaze from this list due to performance issues. The framerate would drop constantly and it led to an uneven experience – sometimes at the most critical points. The otherwise excellent quality of the game, ended up swaying me but not without pause.
7. Fhtagn! - Tales of the Creeping Madness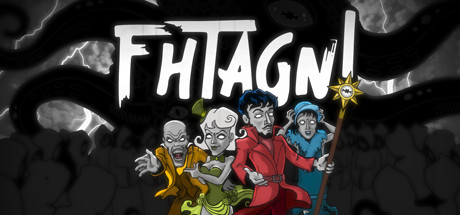 As you might surmise by the three consecutive consonants in the title, Fhtagn! - Tales of the Creeping Madness is inspired by the Lovecraft mythos. It's an odd, boardgame-like narrative experience where you play as one of four cultists attempting to summon the Ancient One. You can play with up to 3 friends which seems like the ideal experience.
The whole game has an extremely well crafted art deco presentation to it. You visit 1 location per round and let the humorous antics unfold, usually with equally humorous consequences. Once 6 rounds are complete, you'll have gained points in a few of 7 categories based on the locations visited. Your final task is to use your power of deduction to select a card whose requirements you have met. To meet a requirement you have to have accrued enough points in 2 of the 7 categories but that information is obscured. The card's picture and prophecy text contain the clues to success. It's far from obvious what a winning card might be, but part of the fun is fumbling along the way.
Each session lasts 15-20 minutes and in addition to the breadth of content at launch, this game has a straightforward scenario editor and Steam Workshop integration. Ideally, this encourages players to create and submit their own wacky stories. Developers, Design Imps, created this game to raise funds for their flagship title, The Creeping Madness. The presentation and writing of Fhtagn has certainly piqued my interest and ensures that I'll stay tuned for their forthcoming works.
6. Scalak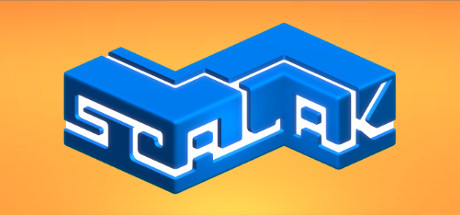 Scalak is a relaxing puzzler created by an apparent master of relaxing puzzlers with previous games like PUSH, Zenge and Art of Gravity. This one flexes your spatial ability by asking you to reuinite 2D faces and small 3D shapes to their homes on larger 3D shapes. This idea is explored thoroughly through 90 levels. Sometimes tiles are cut in such a way that it requires a comrade to complete a yin yang-like partnership. Other times, corners and edges are marked with lights that limit the tiles that can attach to its sides. In some levels, you're able to rotate parts of the base figure, adding yet another brainteasing layer.
There's not much more to say about this 2 hour logic gem but I can say that it was well worth my time and the asking price of $2.
5. Rheum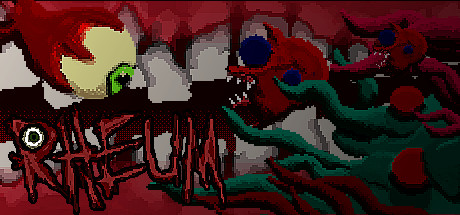 Rheum is a fun shoot 'em up where you play the part of an eyeball travelling through the human anatomy to eradicate any viruses and foreign bodies. For some reason, it reminds me of Edmund McMillen's work – not just in its generous usage of bodily fluids but because it seems strangely personal. I look forward to seeing future works by T-Rexcellent Studios just to see what hallmarks may carry through.
In the case of Rheum, it's a fairly straightfoward bullet hell affair. There are two difficulty levels and I opted for Easy over Hard. It presented a challenge but one that felt surmountable. As you dispatch of your foes, you collect bits that fill a meter up. Once full, you get a random upgrade. For instance, it may give you a damage boost or an additional bomb. Between the bullet hell patterns, the meter-filling bits and various onscreen enemies, it was hard to distinguish between benign projectiles and ones I should avoid. This was further exacerbated by the dimness at the edges of the screen, presumably meant to discourage you from hugging them. After a couple sessions, however, I got accustomed to avoiding the pulsing lights of anything that could damage you.
The music in this game can get guttural, which is a nice fit. But it's a bit too low and lacks some punch. Outside of that, I can recommend Rheum as a fun, if fairly straightforward, bullet hell experience.
4. Warstone TD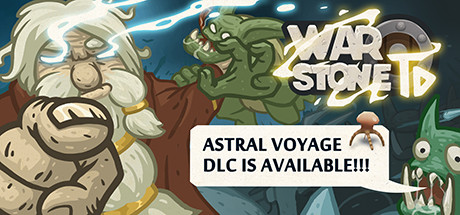 Warstone TD is a tower defense game with some light city building elements. The tower defense mechanics play out a bit more active than a standard entry in the genre but not nearly as involved as Sanctum or Orcs Must Die. Your towers, as it were, are stationary soldiers in this case. The first couple units you acquire are warriors that can attack when a foe comes close and archers that can shoot from a distance. You can set them on stones that are usually already placed on the playfield. This removes some of the creative expression from the genre but is alleviated by encouraging you to act quickly. You'll need to do so in order to take advantage of the spells on hand. As you oversee the battlefield, you can unleash a thunderbolt to target a single enemy, an area-of-effect freezing spell that will slow your opponents down or a fireball that can damage a number of units at once.
Each level in the campaign has 4 difficulties as well as 2 alternate versions that can be unlocked through continued play: Challenge and Survival. This sets up for a meaty campaign that is accompanied by a story that is admittedly dull but told through beautifully illustrated comic panels. In between missions, you're treated to a casual city builder – it won't challenge you but it's a nice change of pace and visual reward after a tough battle. The class system and skill tree therein allow for a play-it-your-way experience. Apparently a Sorceress is able to complete a mission with nothing but spells, for example. This more than restores the creative expression lost from unit placement. For this and the substantial campaign, Warstone TD is an easy recommend.
3. Cosmic Snake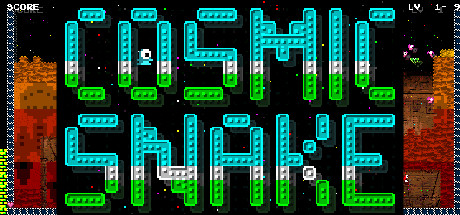 When I was sent a copy of Cosmic Snake, it came with supplemental information: a wiki page showcasing the history of the developer, Mindware Corp. The storied history dates back to 1988 when founder, Mikito Ichikawa (better known as Micky Albert), was still in high school. Disillusioned, at an early age, with working conditions in the game industry, he formed his own companies, the latest of which is Mindware Corp. Admirable for that alone, his resume went onto include contract work for Streets of Rage, Star Wars: Attack on the Death Star, Slap Fight and Take the A Train. As if that wasn't enough, Mindware has since been creating original games with a focus on fun rather than trying to keep up with the hamster wheel of the AAA industry. Enter Cosmic Snake.
Cosmic Snake is as clever of an interpolation as I've seen for the veritable "Hello World" of videogame programming. It takes Snake and entwines it with a combination of the side-on view from Dig Dug and the goal of trapping your foes as in the more obscure Dig Dug II. Even more interestingly, it tells you nothing about its premise – you're asked to figure out the goal and its nuances on your own. It took me 10 minutes before I felt I had a handle on what I was doing (though I'm still unclear on some of the details). This is balanced by a very inviting experience, including a bouncy chiptune track and a slow drip of mechanic discovery.
Your goal is to trap your enemies in the caverns you've dug in the playfield. Once trapped, you'll want to collapse any ground above them, which will turn them into coins you can collect – doing so consecutively will rack up a combo. This compelling gameplay loop that combines tactics and arcade-twitch is the heart of Cosmic Snake making it an excellent score-chaser.
2. Slipstream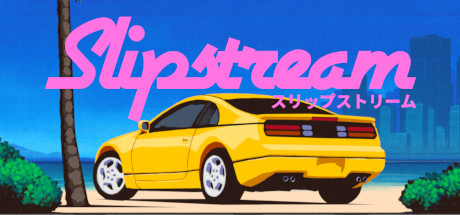 My favorite game in the last Indie Weekly was Horizon Chase Turbo. This week, I bring you another Outrun inspired gem: Slipstream. When it comes to modernizing the aesthetic of the sub-genre, Slipstream is an utter triumph. It has 2D parallax backgrounds, 2D billboards placed in 3D space and 3D models, all with masterful pixel art. The thoughtful balance between traditional look and modern sensibilities ensures that the varied locales are the star of the show. Morning City has you taking an early morning drive down the throughway of the commercial district of a large city. Nods to Sega are abound; half of the tracks appear to be names of classic zones in the Sonic the Hedgehog series, including Oil Ocean. It's a beautiful track with sandy shores and a high tide. A large oil rig is ever-present as you race the sun.
As for the racing itself, there are a number of modes. Arcade mode seems to be the main focus and it's a tour through 5 of the 15 tracks. You're given a rival racer in each and will want to stay ahead of them as you try to make it to the next course before the timer ends. Quick Race and Grand Prix are staple modes that behave as you might expect. Once a mode is selected, you choose from 5 cars based on your preference for handling, acceleration or top speed. Drafts are referred to as slipstreams here and they're key to accelerating quickly. Meanwhile, drifts are key to maintaining speed and their execution is a series of button presses that make it feel mechanical, like shifting gears. You start by letting go of gas as you approach a turn and then immediately tap brake with a direction held, followed by resuming acceleration.
The wealth of content, the gorgeous locales and the traditional play all ensure that Slipstream is a game that I can pick up and play for some time to come.
1. I Hate Running Backwards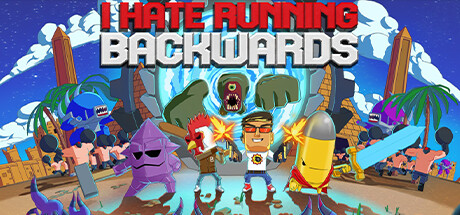 When I was first introduced to the modern era roguelite, I was taken aback by the fact that I was enjoying permadeath. It felt like a challenge to my sensibilities. Game design was trending so far in the opposite direction with an overabundance of checkpoints and regenerating health that I had to ask myself: why is it that permadeath could appeal to me so? In the end, I felt like it took the arcade experience I grew up with and modernized it by inherently eschewing rote memorization through procedural generation.
I Hate Running Backwards takes this to a new level by bringing you an unexpected, but well-suited, mashup – the roguelite shmup. It's a top-down vertically scrolling shooter rendered using voxels a la Minecraft and Voxatron. You make your way through five environments as one of a dozen unlockable characters. Published by Devolver Digital and developed as part of a Croteam Incubator initiative, the characters are pulled from a buffet of indies and include Serious Sam himself. The character in question begrudgingly runs backwards, but this really just translates to a vertically scrolling camera – you still have full movement control of your character. Each character has a unique duo of weapons, a multi-purpose spin and an ultimate ability. Your goal, of course, is to make it to the end while racking up as many kills and collateral damage as you can.
The enemy design is excellent here. There are swarming spiders, baddies that lob grenades, and rocketeers whose projectiles can be redirected with your spin. And of course, if you've played Serious Sam, you're familiar with the mob of manly screams growing ever-closer. That's right – Beheaded Kamikazes are here. Each environment ends with a daunting boss that takes up a large portion of your screen. Scrapjack, for instance, is equipped with a pair of enormous rocket launchers requiring judicious use of your spin move.
The first time you clear a boss, you're rewarded with a new curse. Similar to the skulls in Halo, these make the game more difficult but allow you to accrue more mojo, this game's version of XP. As you level up, you can choose a perk like Strike Unleashed which increases the chance for a critical hit or Hurricane Heels for a longer-lasting spin. These roguelite trappings make it so every run feels fresh. This makes I Hate Running Backwards my #1 indie you might have missed last week.