POST | Indie Weekly
Indie Weekly (Week 25, 2018)
By Richard Alvarez
Here are the top indies you might have missed from last week! Let us know your favorites on Twitter.
6. Sword of the Guardian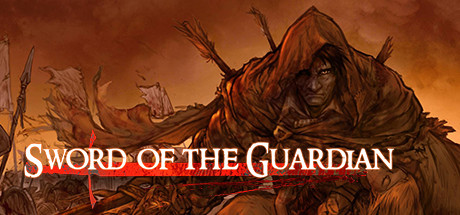 Made by a solo developer out of Hong Kong,Sword of the Guardian is a bit of an odd beat em up. It can sometimes be buggy, the dialogue is cliché and the localization is poor, but the combat is fantastic! I could not stop juggling already-dead foes! You start by choosing one of three playable characters: Monk, Dwarf, or Swordsman. They each have unique fighting styles. For example, while the Monk and Swordsman can dodge out of danger, the Dwarf's dodge button is used for block. For each fighter, there are a ton of offensive options and the controls are smooth. You can execute a basic combo by mashing on the attack button. You can throw daggers, bombs and other items you pickup. And the star of the show here are the special moves that each character can execute. With these options, you can use your own ingenuity to create combos.
There are three special moves: down, right + attack for a lateral strike; down, up + attack for a launcher and B for an ultra move. The way these are tailored to each of the fighters is impressive. Monk's launcher well send him into the air diagonally and come down diagonally, which will launch a group of foes once he's grounded. This is a relatively safe way to enter a large crowd and start going in. Swordsman's launcher is much more like a Shoryuken. It's slower than Monk's and will leave you vulnerable to projectiles in the air. I'm also a fan of Monk's ultra which will blast enemies into a wall-bounce enabling you to juggle them further.
Based on the combat engine, it's clear that the developer is a fan of action games. It takes a while to get back up from a knockdown, but you can hit jump in mid-air to reset the knockdown. You can cancel out of your basic attack string to dash or throw weaponry – this can help you out of danger if you see an attack coming. All of these, are choices that provide a level of mastery for intermediate and advanced players to reach towards. The bosses are similarly well-executed and will ask you to bring your A-game if you're to dispatch of them quickly. Sword of the Guardian is a game I kept coming back to because the combat engine has that Mario quality of being just plain fun to control. If you like action games, definitely give this a look.
5. Break the Targets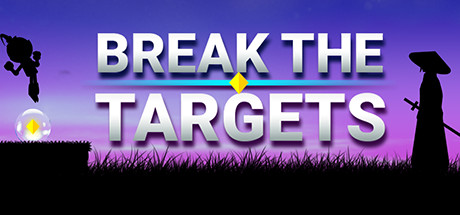 The four years I spent at a university was the only period of my life where I would consistently be around gamers with our machines at the ready. This led to bountiful sessions of Super Smash Bros. Melee, Mario Kart and Halo. Before college life, however, the sessions were more infrequent. So how did I spend time in between bouts of N64's Super Smash Bros.? In the Break the Targets mode of course! Smash being a platform fighter made it a good fit for action platforming levels that could be designed around each character's unique abilities.
Enter Break the Targets, an indie game influenced by the classic Smash mode. Despite being his first commercial release, developer Qual has seemingly spared no effort to bring a robust release. This game has nearly 150 levels (alongside a level editor), 2 playable characters and 10 different game modes – including the very entertaining Juggle mode. The controls are a tad awkward, perhaps especially without a GameCube pad. For example, the four directional attacks are mapped to the right analog but jump is mapped to a face button which makes mid-air attacks cumbersome. The controls are remappable but my point is there is a learning curve before you can feel competent in this game. Once you do however, you can float around the maps like a ninja, barely ever touching the ground.
In Break the Targets, you have to collect all the gems in a level before proceeding. Some of the gems are encased in a bubble that has to be popped with one of your attacks. The acrobatics needed in each level increase at a reasonable clip. Additionally, the levels are graded on a 3-star system based on your completion speed. That third star is particularly difficult even on early levels. Also difficult are the hidden bolts – one per level. Taking a significant effort to find, much less reach, these bolts are challenges that test your logic and your dexterity.
The end product is a game with challenges for any level of gamer. While it's not devoid of rough edges, Break the Targets earns a spot in my rotation by being unique (despite its influence) and exhilarating.
4. Suzy Cube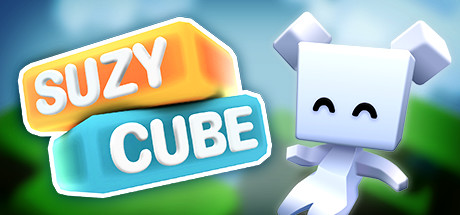 Do you want more adorable in your Mario? Try Suzy Cube! Developer Northern Byte Studios has taken the Super Mario 3D Land formula and really made it their own. You play as a cute, blocky, bunny-like character. Hats are your powerups here – picking up a blue one will grant you an extra hit point and green pilot caps result in a double jump. The game is 3D, but the camera is fixed and only rotates as you enter certain zones. This camera treament is what felt most like Super Mario 3D Land. I enjoyed that it would go from a side-on view for 2D platforming sections to behind-the-shoulder view for sliding segments and rooms with 3D platforming and even to top-down areas with Captain Toad like puzzles. All the while, the fixed camera meant the designer could hide collectibles in tricky out-of-sight corners. I did encounter a couple bugs where the camera didn't rotate properly but this was rare and didn't stand in the way of my enjoyment.
The collectibles in Suzy Cube come in the form of 3 stars hidden throughout the level. Even beyond camera tricks, these are cleverly placed and provide an additional challenge for those that might find this game too easy. Some might require you to dispatch of all the bad guys in one section or clear a platforming challenge in 3 seconds or less. This variety is what surprised me most about Suzy Cube. There was something novel to do at every turn. I suppose I shouldn't be too shocked though. This game is published by Noodlecake Studios who has been racking up quality experiences ever since Super Stickman Golf. Most of those have been on mobile and while Suzy Cube is too, this seems to Noodlecake's first shot at publishing on Steam, which is quite welcome indeed.
3. Gravity Well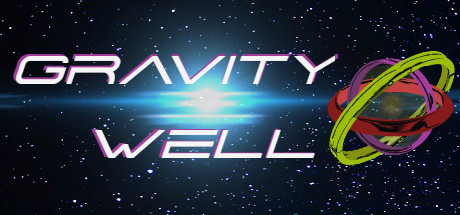 Gravity Well is a first person puzzle platformer a la Portal and Q.U.B.E.. You play the part of a transporter on one last mission. You can make a lot of money if you retrieve and return the ""G-W"", but you're forbidden from looking at what's inside the suitcase. Naturally, you break that restriction immediately and find that the G-W (aka Gravity Well) is a gun created from researching black holes that allows you to harness positive and negative singularities. You can use these powers to push and pull objects. The controls take some getting used to but, you won't be able to proceed until you have a basic handle on them.
The way it works is you can shoot out a small orb-like round from your G-W. If you hit the trigger again, it will stop the orb in mid-air wherever it is. Now, it will exert its force based on which singularity you had selected. For instance, you'll have to set it to positive singularity to push debris away from a door. Later, you'll use negative singularity to pull a platform closer to you or to pull a door open. This core mechanic is used to great effect leading a good variety of puzzles, including to some real head scratchers.
As an aside, I forgot there was a Sprint button which made my life harder than it needed to be, so yeah – don't be like me.
In addition to the enjoyable play, the polish on display is impressive. There are hidden data logs, which are fun to find, and are voice acted particularly well. I also enjoyed the opening segment where you're in the cockpit of your spaceship listening to a message before you can undock. The dashboard is adorned with nifty controls to look at while you're locked in your seat. It's a really nice touch and makes clear that the designers were considerate of players experience. Knowing that the player will be frustrated by challenging puzzles, they went out of their way to make everything else pleasant. This balance makes Gravity Well a compelling play and an easy recommend.
2. Haimrik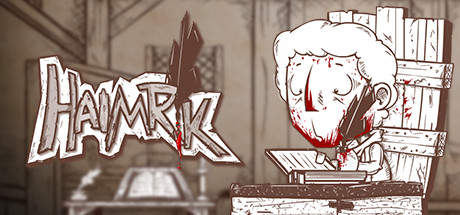 Binding of Isaac already proved a game can be cute and kind of gory. Haimrik agrees with this premise and then adds a narrative that gets blended into the gameplay itself. Each level sees the titular character, Haimrik, walking across stone bridges. The impending scenario is described on the floor you walk across. For example, here is one level with two bridges:
There was a crossbow and arrows on the ground, no doubt left by

the archers hidden in the back of an old castle.
In this level, archers literally appear and ambush from the rooves of the castle behind you. If you've sussed out the danger before you make it to the word ""archers"", you can prepare yourself by manifesting a crossbow and arrows from the respective words. There are also two shields you can use as cover, peeking out only when you're ready to fire.
This unorthodox gameplay mechanism is intriguing and even endearing. To match that, Haimrik has a unique art style and aesthetic. The scenes are all a brown-tinged monocrhomatic with a comic sketch shader. Sets of levels are bookended with RPG-like town exploration. During these segments, you can chat it up with NPCs who are all depicted with exaggerated expressions. The result is something that could sit alongside the cartoons we considered edgy in the 90s, like Ren and Stimpy. This personality makes Haimrik a no-brainer for this week.
1. Lost in Harmony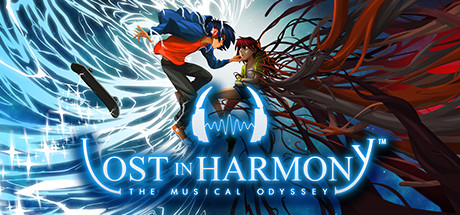 Lost in Harmony is the Elite Beat Agents of auto-runners. The music is bombastic, the style is turned up to 10 and it controls like a dream. In this game, your character and his partner are racing towards the camera on his skateboard. You have to collect star bits, avoid obstacles and tap buttons to the beat as the setting around you evolves. Because the levels are the character's dreams, they allow for some fantastical transitions. The second level starts you on a seemingly endless wharf-side boardwalk with seagulls and ships passing you by. Suddenly, the music stops as the water around you swells up into a wave that you have to outrun. Then, as soon as it came, the wave subsides and the sun burns through the dark skies, turning them blue. Now you're on a tropical boardwalk; the surrounding sea is adorned with dolphins, sailboats and miniature islands and the music has reutrned to its booming characteristic.
Like a Mizuguchi (Lumines, Rez) creation, this game strikes a great balance with its two opposing traits: the scoring system that drives you to do well and the zen-like atmosphere that keeps you cool-headed throughout. I'd also like to credit it for its dedication to controls. This game is available on mobile and based on videos, the controls look spot on there. But what's most surprising to me is that it doesn't feel like a mobile game ported to consoles. The pad controls are just as well suited and it's clear they went the extra mile to tailor the experience to the platform.
Lost in Harmony is my favorite game of the week but it's also a delightful surprise. Even if this genre is not usually your jam, I urge you to take a look.