POST | Review
Sacred Stones Review
By JR Smith
Reviewing work by a sole developer is a curious thing. I find myself wanting to cheer them on and provide a pass for errors I wouldn't accept from larger teams. Criticizing their game ultimately feels more personal than pointing out problems from larger teams. But grading sole developers with a separate rubric feels like I am belittling their efforts.
With that in mind, I want to introduce the early access 2D boss rush game Sacred Stones, developed by Sungjun Jo (working under the name NoxBix) who did the programming, art, design, and some of the sound effects. The pixel art clearly took inspiration from Studio Pixel's seminal Cave Story. It's clean, pretty, and more importantly immediately readable during the white knuckle action. The upbeat chiptunes soundtrack by composer double flats also helped bring me back into the 8-bit and 16-bit era of gaming that I grew up with.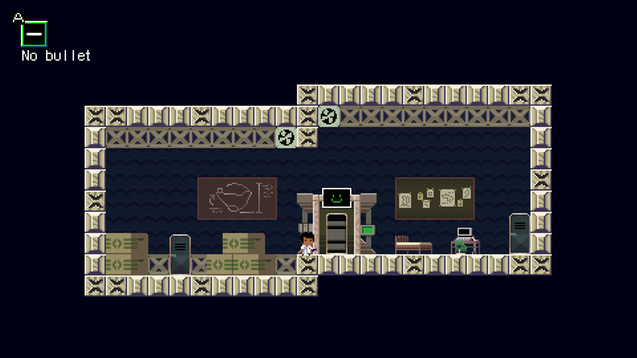 Players progress through four worlds with multiple bosses in each, picking up new weapons along the journey, some automatically given to you after defeating certain bosses, some hidden in the worlds that you visit. Weapons include a nearly useless landmine, a copy of the first gun with longer reach, a bullet that shoots out then sprays in a circle, and maybe others that I missed. If you miss a weapon upgrade, you can't backtrack to get it. If that wasn't punishing enough, the game curtails your ability to explore the second word, forcing you onto the next fight after beating the fourth boss. There's no warning for this, the first and third world let you move on whenever you're ready. Adding insult to injury, the camera pans by a weapon upgrade that you could have reached if you only had the option to explore.
NoxBix clearly put in a great amount of care in building a varied set of bosses for you to take down. I loved jumping on the boxes thrown around by the heart boss - even if I found a bug where I kept getting stuck inside said boxes. The screen encompassing dragon boss would have been better with more telegraphing, but I enjoyed this take on the learn a pattern and execute formula. Conversely, the baby dragon requires learning a set of possible moves and react to the positions and timing from which they come. I don't remember the last time a boss sat so neatly on the knife's edge of "I can't believe I pulled that off" without falling into unfair territory.
Not everything was rosy when it came to boss design, though. I already mentioned the box bug and the sometimes lackluster warnings. But I had a creeping sense of dread toward the end of the third world that I was missing something else. With one hit death game design, I generally expect some window to mess up a jump or stand in the wrong position and correct it if I spot in time.
But the boss fights were narrowing that window to a negligible sliver. Due to frustration with the final world, I looked at videos of how others were tackling the bosses only to find out that there was a missable shield. Suddenly, it became very clear that at some point NoxBix stopped designing bosses around one hit deaths and instead assumed that you had picked up the shield. Which again, you could miss and cannot backtrack to obtain! The bosses that felt like they didn't sufficiently telegraph their moves enough or only gave you a tiny sliver in which to react suddenly made sense. I cannot figure out why the shield wasn't put on the critical path or just given to you from the start.
Sacred Stones is almost ready for a full release. As it stands, I feel like I am playing a well put together beta. It is heartening that the early access timeline says that they're using this time to work out the kinks in the balance. If they can address the obvious bugs like the heart boss level or address the critical path issue with the shield, I would love to give this game my full endorsement. Until then, I am impressed by this solo effort but I want to wait and see.
Score: 3 out 5 (Cautiously Recommended)
Sacred Stones was created by NoxBix. It is available on Steam for $11.99.