POST | Review
Super Daryl Deluxe Review
By Richard Alvarez
Super Daryl Deluxe opens with an exciting but intimidating tutorial. As soon as you're given control, about two minutes in, you're presented with one of those diegetically placed "Controls" billboards we've become familiar with – it appears as part of the game world even though analog sticks and face buttons don't make sense in the fiction. The striking thing about this billboard is that almost every button is used. LT is for Dash/Sprint, A is for jump and B, X, Y and RB all map to offensive skills. The Dash doubles as a combat maneuver meaning you have 5 total buttons and the Jump to contend with as you enter combat. And the tutorial is basically all combat. This leaves you at once daunted by the number of options and anxious to learn more and break the combat system wide open. Then, just as quickly as it threw you into the deep end, it pulls you right out and drops you into the kiddie pool. In this way, Super Daryl Deluxe felt like a tease at times. While the game is delightfully funny, it sometimes felt like the joke was at the player's expense. Truth be told, I spent at least part of my playtime coming to grips with this.
As the Prologue comes to a close, you're treated to one of many excellent, lightly animated vignettes. Replete with first class voice acting and impressive illustrations, there are over 45 minute of these cartoons. This one takes you back 40 years in time to the events that set everything in motion. A graduation plays out, and the master of ceremonies is lavishing nonsensical praise onto valedictorian Eli Bavarious and salutatorian Kent Hagerman. Apparently, both have contributed innumerably to their small town community and have dreams of inventing self-help to help people all across the country. Already the humor is taking shape by way of a ridiculous premise.
"Part 1" of the game begins, and you resume the role of the eponymous Daryl, in bell-bottoms-era Middle America. He's a new student at the same high school Eli and Kent attended: Water Falls High. Supernatural oddities reveal themselves as you play. It's not clear how Eli and Kent are related to this, but it's clear that they are. Daryl is a nerd straight of central casting. In fact, he's a dead ringer for Napoleon Dynamite, with the overbite and ever-open mouth. The comically robotic Vice Principal, Mr. Robatto, hands you your schedule and you begin your first school day. You "introduce" yourself to various other students by standing awkwardly close to them as they carry on with their own conversations. Paul and Alan take you under their wing assuming they can mistreat you as you do their bidding. They get the honor of giving you your first of many fetch quests: retrieve a piece of paper and some dandelions. So common were fetch quests, that I kept coming back Poe's Law:
Without a clear indication of the author's intent, it is difficult or impossible to tell the difference between an expression of sincere extremism and a parody of extremism.
While fetch quests aren't some form of extremism, I posit the aphorism holds true nonetheless. It seems plausible that one of the design goals was to parody out-of-fashion game design. But even if that's true, at what point does the parody undermine its own cause? I'd say Super Daryl Deluxe went well beyond that point. Thankfully, there are other places where parodies were implemented to greater effect. Daryl being mute, similar to most video game protagonists before the early-aughts, is fodder for some of the best comic relief in the game. His manipulative pals – Paul and Alan – call him everything from Dan, Danny, Dylan, and my favorite Domingo without ever so much as a peep from our hero. Similarly, news clippings strewn about serve to parody the environmental storytelling of BioShock, Gone Home and many others without ever being overbearing. The news clippings are limited to a small area of the school and the story tidbits are relatively inconsequential.
Now, to be fair to the fetch quests, they are often more than simply "go there, get thing, come back, done". In fact, they are frequently conduits for the ambitious combat system. Most enemies drop items: animated flasks drop broken glass and rats are hoarding cheese. So when you are tasked with collecting 10 pieces of broken glass, you might inspect your detailed Codex to find that you're going to have to pummel some flasks in the Science classroom to complete your quest. The combat system grants you 5 buttons that you can map to some sort of skill: 4 for offense and 1 for dash. Skills can be bought from Paul and Alan in exchange for textbooks, one of several currencies. The skills each have unique properties. For instance, you might want to have a Melee attack with a Launcher property if you want to isolate your foes into the air. Or if you have a Ranged attack with a Stun property, you can disable bad guys from a distance before going in for the kill. Each of these attacks also have various startup and recovery frames, so once you have a loadout, you'll have to play around with it to determine an effective combo.
The only other game I've seen with such a robust combat editor is God Hand. It was this touchstone that raised my expectations a tad too high. For the first several hours, the combat amounted to little more than button mashing against damage sponges. I eagerly anticipated the outsanding boss fights that broke up the pace and required you to consider your next move. By the back half of the 12-16 hour campaign, however, the combat really begins to takes shape. The designers felt confident enough to throw you into more advanced scenarios where you had to defend multiple vectors of attack. In one of my favorite rooms, you're faced with three enemy types: an Anubis Warrior that melees you in close quarters but will light the ground on fire from a distance, a bat that shoots a fireball from midair and "Scorpadillos" that have excellent defense but rush you from the ground. Combat segments like these, reminded me of the obvious: there's no shame in falling short of one of the best combat games ever made.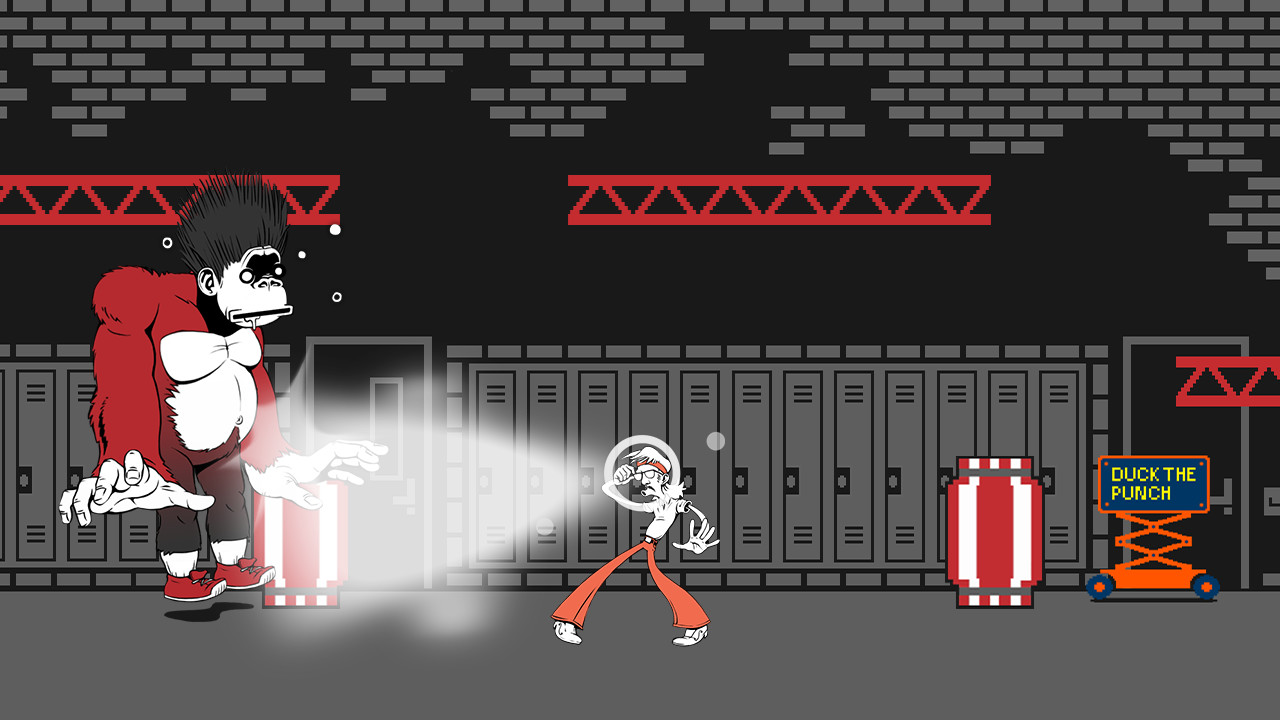 The truth is, developers Dan & Gary Games had their fingers in many pies when it comes to Super Daryl Deluxe. They tackled Action RPG, Metroidvania and Character Action, all while maintaining "AA" presentation and top notch humor in a dozen-hour campaign. At that rate, you're bound to hit some low points throughout the game, especially if you're only invested in one of those facets. To that end, your enjoyment will depend on your ability to endure through the lows as you make your way to the many highs. Once I realized that, the trade-off was straightforward.
Score: 4 out 5 (Recommended)
Super Daryl Deluxe is the first release by two-man outfit, Dan & Gary Games. It is available on Steam for $19.99.